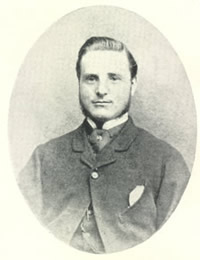 In 19th century Aberdeenshire, the life of the agricultural labourer was hard and uncertain, hired for a six-month term at a feeing market at whatever wage he could negotiate. A hired labourer had no control over his own destiny or the work he was hired to do. Whether or not he was kept on after the initial term was a decision for the farmer, meaning that travel between farms was a regular feature of a labourer's life.
One such agricultural labourer was Alex Mitchell, who worked on 14 different farms in Aberdeenshire until he was 23 years old.
Born in the parish of Premnay on 1st July 1842, on the farm tenanted by his grandfather, Alex was the only child of James Mitchell, a farm labourer, and Jannet Milne.
Jannet died when he was two. In 1849 his father remarried and moved away from Premnay, leaving his son at Wester Edingarioch where he is listed in the 1851 census with his aunt Margaret Roy and her family.
Alex was still in contact with his father though and lived with him part of the time. In May 1855 they went together to the local feeing market at Pitmachie, Oyne, to look for work for Alex. Here, Mr Abel of Pitmeddan Farm hired him for a fee of £1 for the six-month term to look after his six cows and one bull.
At the end of the term, Alex returned with his father to Pitmachie Market. This time he was fee'd to George Davidson, Cockmuir, Rayne to look after his cattle, at a fee of £1 10/- for six months, then to Peter Glennie, Cairnhill, Culsalmond, herding cattle at a wage of £2.
The more experience he gained, the more confident he got, and he started looking further afield for work. So for his next positions Alex went to the larger Inverurie market.where he gained work at 2 more farms increasing his wage to £4.
After these posts he tried Insch market where he was fee'd to work at Johnston, in the Parish of Leslie at a wage of £4 10/-. This fee was more successful as he stayed for three half years, with his wage later increasing to £6. His job "title" throughout the time reflected his wage increases, starting as the "little loon on the farm", later becoming the "big loon," with more responsibility.
Over the next few years, Alex went to Alford market and was employed at six other farms in surrounding parishes, until he became a coachman for William McCombie.in Tough. After this he moved to the Borders to become a coachman for Sir James Suttie. It was while working here that he married and had a family of his own.
At the end of his life, he looked back on his labouring days and told his story in "The recollections of a lifetime", a copy of which is held by the Aberdeenshire Library and Information Service. Here he described his life as a labourer, including the farms he was fee'd to, the people, the countryside, the customs and events, his work, and of course, his travels.