An account of No. 8080 Private John William Milne
1st Volunteer Service Company, Gordon Highlanders
South Africa, 1900
"All is quiet before the dawn, except the soft zephyrs that stir the veldt in its sleep, and the hoarse croak! croak! of the frogs down below. The sentry on duty is alive to the situation as he gazes into the impenetrable gloom, grasps his steel tipped rifle, the blood thrilling through his veins, and dim visions begin to float before his eyes. Such are the feelings of a soldier on his lonely vigil, before the sun has graced the land."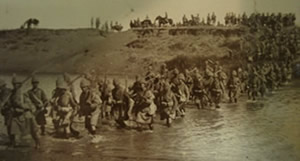 The Army provided an extraordinary opportunity for Scots to travel abroad; thousands of young men who had never left the borders of their communities found themselves transported to far-flung corners of the British Empire.
In January 1900 twenty-one year old John Milne, motivated by patriotism and a sense of adventure, enthusiastically answered a government call for volunteers to serve in South Africa. He joined his local regiment, The Gordon Highlanders, in Aberdeen. During his service overseas with the Regiment he kept a diary chronicling his experiences, from daily camp routine to the excitement and danger of combat. This diary provided the basis for a detailed article he compiled after the war for the Mutual Improvement Association of which he was member, part of which is quoted above.
The Second Boer War (1899 – 1902), or South African War, was a bitter and difficult war for Britain. It took nearly half a million men of virtually every Regiment and Corps of the British Army to defeat an estimated Boer force of 55,000. The Gordon Highlanders saw a great deal of action. The Regiment won six Victoria Crosses, the highest decoration for courage on the battlefield, during these years.
Private Milne was present at the battle in which one of the Regiment's most famous Victoria Cross holders won his award. On Monday 30th April 1900, at the Battle of Mount Thaba, Captain Ernest Beachcroft Towse and a party of 12 men found themselves surrounded by the enemy. Called upon to surrender, Towse refused, ordering his men to fix bayonets and charge. Half were killed by enemy fire as Towse led from the front, wounding the Boer leader with his rifle before being struck by a bullet that blinded him in both eyes.
Milne survived the Boer War and years later went on to fight once more for his country, this time at the Battle of the Somme in 1916. He died in 1951, aged 73.