Routes to Your North East Roots: Haddo House, 8-10 August 2014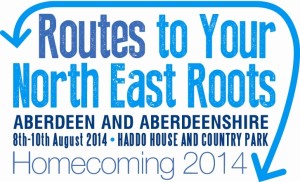 As part of Homecoming Scotland 2014, "Routes to Your North East Roots" (Friday 8th-Sunday 10th August) invites you to come home to your ancestral roots and the distinctive culture and heritage of the North East of Scotland. Over the course of the weekend there will be a family history and heritage fair with heritage organisations, museums, libraries, registrars and archives from across the region taking part. There will also be a lively programme of talks delivered by nationally and regionally recognised speakers taking place in the library of Haddo House.
You can now book to help us kick off the Homecoming 2014 weekend of activities at Haddo House on Friday 8th August.  Our opening reception will feature talks by BBC Radio's Jim Naughtie and Professor Marjory Harper of the University of Aberdeen.
The reception and talks will be held in the library of Haddo House. Please book early to avoid disappointment! Tickets are £10.00 each, and can be booked online via the National Trust for Scotland.
The unique traditional music and song of the North East, including Kintore Pipe Band, will be a prominent feature. There will also be a chance for visitors to sample and purchase fantastic locally produced food and drink from a diverse range of suppliers.
A programme can be seen below, but if you would like more details please email our Chairman, Phil Astley via –  pastley@aberdeencity.gov.uk
You can also follow the event on Facebook
PROGRAMME FOR THE WEEKEND
Friday 8th August
7:00pm – 9:00pm
Haddo House Library: opening event with talks with:
Jim Naughtie, author and broadcaster – "My Roots in North East Scotland"
Professor Marjory Harper, Aberdeen University – "Adventurers and Entrepreneurs – Emigration from North East Scotland".
Tickets: £10:00 – book online via the National Trust for Scotland
Saturday 9th August & Sunday 10th August
10:00am – 4:30pm
Admission £3:00 per day for adults, children under 16 free.
Main Hall
Family and local history fair with heritage and family history societies, museums, libraries, archives and registrars from across the region, as follows:
Aberdeen and North East Scotland Family History Society
Aberdeen City and Aberdeenshire Archives
Aberdeen City Libraries, Local Studies
Aberdeen University, Special Collections
Aberdeenshire Libraries, Local Studies
Aberdeenshire Registrars
Buchan Heritage Society
Deceased Online
Cromar History Group
Family History Society of Buchan
Fraserburgh Heritage Centre
Garioch Heritage Society
Grampian Books
Great North of Scotland Railway Society
Methlick Heritage Society
National Records of Scotland
NHS Grampian Archives
Portsoy Salmon Bothy
Robert Gordon's College
Scotlands People
Tarves Heritage Centre
The Leopard Magazine
Haddo House Library – Saturday
Please note that the audience capacity of the library is sixty, admission is therefore on a first-come, first-served basis.
Programme of free talks on diverse aspects of genealogy and family history:
10:15am: David Brown, Formartine Ranger Service – "Wooden Ships and Iron Men – Whaling from Peterhead During the 19th Century"
11:00am: Tristram Clarke, National Records of Scotland - "Scottish Soldiers and Their Families During the First World War"
12:30pm: Keith Jones and Dr. Mike Cooper, Great North of Scotland Railway Association - "The Railways and Railwaymen of North East Scotland"
2:00pm: Dr. Bruce Durie, BBC Radio Scotland's "Digging Up Your Roots" – "Families and Land" – What are the best records of inheritance and landholding? How can they be used for family history? What's the difference between a Will and a Testament? And what is a Retour? Bruce Durie explains all…
3:30pm: Chris Paton, British GENES blog - "Scottish Marriage – Instantly Buckled for Life" – warning: this talk may contain more than a dash of antenuptial fornication! Until 1939 and 2006 there were many ways you could be legally married in Scotland that were not found elsewhere in the UK, thanks to the unique legal system north of the border based on Roman Law. If you cannot find a marriage on ScotlandsPeople, this talk may help to explain why.
Haddo House Library – Sunday
11:00am: Chris Paton, British GENES blog – "The Godly Commonwealth – Discover Scottish Church Records" – The Scottish Reformation of 1560 dramatically changed Scotland from a Roman Catholic to a Protestant nation, but the nature of that Reformation was one that has been fought over ever since. With the Kirk's ambitions to control education and discipline in pursuit of a Godly Commonwealth, its constant splits and the hellfire damnation of John Knox himself, understanding its role and history within Scottish society is crucial to understanding how to research your family history prior to the advent of civil registration in 1855.
12:30pm: Simon Welfare - "Ishbel's Houses – the extraordinary life of Ishbel, wife of the 1st Marquess of Aberdeen, told through the houses she occupied, extended, improved and commissioned: from Haddo to cowboy ranches in North America, from a fake castle in Chicago to a goldrush hospital in the Yukon".
2:00pm: Gordon Casely – "Simple Heraldry, Cheerfully Illustrated – a talk showing how and why heraldry decorates our lives, and the important place of it in family history"
3:30pm: Robin Urquhart, National Records of Scotland – "Bridging the Gaps – how some of the recent and forthcoming online resources at the National Records of Scotland can help with your ancestral research"
Haddo House & Country Park
Free tours of the House by National Trust for Scotland staff.
Guided tours of the Country Park conducted by the rangers
Lower Lawn
Food and drink marquee – sample the finest local produce from the likes of Formartine's, Ola Oils and Glen Garioch Distillery. Barbecue, using locally sourced produce, from the Adelphi Kitchen.
For children – storytelling (Saturday and Sunday) and Mud Pie Adventures (Saturday only)
Peatyards – Saturday
Traditional music programme:
10:45am – Buchan Heritage Players, traditional songs and music
12:15pm – Gregor Allan, accordionist
1:00pm – Piper and the Marlene Lowe dancers
1:45pm – Davidson Brothers, fiddlers
2:30pm – Spiers Family, songs from the Greig-Duncan collection of folk songs
4:00pm – Sandy Shearer, piper
Peatyards – Sunday
10:45am – Ythan Fiddlers
12:15pm – John Dickson, bothy ballads
1:00pm – Piper and the Marlene Lowe dancers
1:45pm – Spiers Family, songs from the Greig-Duncan collection of folk songs
2:30pm – Kintore and District Pipe Band